This is a cautionary announcement regarding the Notebook Project High-End 2022 model, the Lenovo Thinkpad P15v 2nd Gen. In multiple instances we have found that users attempting to install a flavor of Linux, bricked (broken beyond repair) their solid state drive (SSD) either during installation, or shortly thereafter. This problem was reproduced together with the NSC.
If you use Windows (any release), and do not (intend to) install a flavor of Linux on your primary SSD you are not affected. We have no reason to suspect that using a form of virtualization to run a flavor of Linux (like VirtualBox, Hyper-V, Windows Subsystem for Linux) causes this problem. If you replaced the SSD you are also not affected.
The affected SSD is a Kioxia BG5. You can check if your laptop has one (most likely if you have not had it replaced), by opening Task Manager in Windows, and checking the disk tab. It should tell you the make and model of the hard drive installed.

There is currently no known cause of the problem. Users with broken SSD's may of course use their warranty to request a replacement with the NSC.

To avoid the problem simply do not install a flavor of Linux on the Kioxia SSD for the time being. Installing it on an external drive or USB-stick should not be a problem, and is the recommended workaround while the problem is investigated by the manufacturer.

If there are questions, we recommend you get in touch with the NSC by email, through nsc@utwente.nl
On the 6th of September 2022, the change GMA took place!
The 54th board of W.S.G. Abacus was discharged and the 55th board of W.S.G Abacus is constituted as follows:
Rutger van der Graaf - Chairman
Jorrit Wilmink - Secretary
Wessel Heerink - Treasurer
Niels Berg - Officer Internal Affairs & Officer Educational Affairs
Chendo Helmink - Officer External Affairs
Felix Schwenninger - General Adjunct
We want to thank the 54th board for all the work and effort they put into this lovely association and we are really looking forward to being board next year!
Yaba daba doo!
The 55th board of W.S.G. Abacus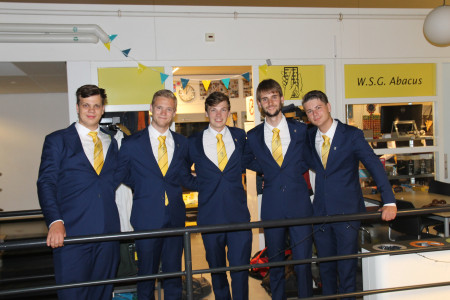 In this quartile, the Education Committee has awarded Werner Scheinhardt with a bouquet of flowers as thanks for his care towards his students.
Throughout the quartile, Werner showed true enthusiasm for his work and a real appreciation for the contact with students. Many of the students following his courses praised the structures of his lectures and how approachable and clear he was when it came to questions, instructions and explanations. The students praising him also mentioned his ability to interest them in the subjects taught by him.
For these reasons, the Education Committee would like to show Werner gratitude for his contribution to education. Thank you!
Show image
| | |
| --- | --- |
| 16:00 | Inter-Actief kicks off the weekend! |
| | |
| --- | --- |
| 18:30 | Come and study together! There will be cookies! |
| | |
| --- | --- |
| 12:45 | Thales will come by to give a lunch lecture. |
| | |
| --- | --- |
| 12:45 | Enjoy a homemade treat in the Abacus Room! |
| | |
| --- | --- |
| 16:00 | Do you want to learn how to tend the bar? Be there! |