New Board

Placed on 13 September 2023
On the 5th of September, the 56th board of W.S.G Abacus was constituted as follows:
Chairman: Jonne Poels
Secretary: Emile van der Veer
Treasurer: Mark Tijhaar
Officer of Educational Affairs and Officer of Internal Affairs: Quinten van Dongen
Officer of External Affairs: Milo Wullink
General Adjunct: Len Spek
We thank the previous board for their dedication.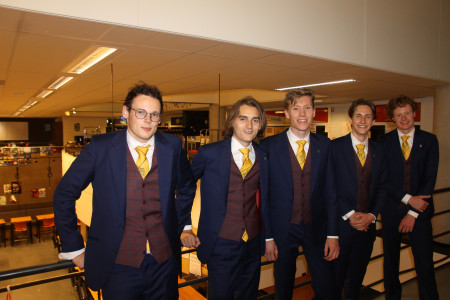 Dear all,
In front of the Abacus room, under the coat rack, the lost and found is located. This lost and found is extremely full with stuff that has been there for a long time. We will be cleaning this. Anything that is still on, under or near the coat rack on September 16th will be removed. Make sure to take your stuff and check whether there is anything that might be yours!
In quartile 4, the education committee gave a bouquet to Philip Lederer! Philip took over the master course Finite Element Method (FEM), halfway through the semester. Previously there were a lot of complaints about the course, but Philip explained the subject from scratch and got every student up-to-date. The final projects were somewhat elaborate and difficult for the students, but Philip made time to meet with each project group face-to-face and helped them to finish their projects. In the end, the students felt that they actually understood the method, and were happy that they got to apply it to interesting real-life applications. Once again, thank you Philip, for your time and for your effort!
Show image
| | |
| --- | --- |
| 12:30 | The Ab-Actie has made a homemade Wednesday! |
| | |
| --- | --- |
| 16:00 | Be there for this amazing crossover activity(it's so hype)! |
| | |
| --- | --- |
| 16:00 | Come and enjoy a few drinks with your fellow Abacus members at this FriAD! |
| | |
| --- | --- |
| 19:00 | Join the education committee for a nice and cozy study evening with your fellow mathematicians! |
| | |
| --- | --- |
| 12:45 | Come by for an interesting lunch lecture by Van Lanschot Kempen |